Tulsa Dental Implants: Everything You Need to Know
Missing teeth can have a huge impact on one's quality of life, affecting the ability to chew, speak, and even smile with confidence. Fortunately, dental implants provide a reliable and long-lasting solution to replace missing teeth. If you're considering dental implants, it's important to know what they are, how they work, and what to expect.
What are Dental Implants?
Dental implants are artificial tooth roots made of titanium that are surgically placed into the jawbone. They act as a sturdy base for dental restorations such as crowns, bridges, and dentures. Dental implants are popular because they closely mimic the look, feel, and function of natural teeth. Also, dental implants don't rely on adjacent teeth for support, eliminating the need for any alteration or support from other teeth.
Dental implants offer several advantages over other replacement options. They are durable, long-lasting, and easy to maintain. Additionally, dental implants don't slip off or shift while eating, speaking, or smiling as traditional dentures can. This increased stability allows dental implants to be more natural-looking, comfortable, and functional.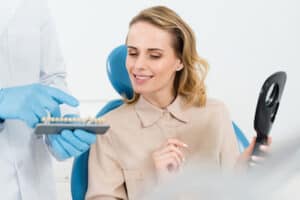 The Dental Implant Procedure
The dental implant procedure typically involves several appointments over several months. Here at Transcend Dental Implants and Periodontics, we specialize in this dental service. During your initial consultation with us, one of our dental professionals will evaluate your oral health and determine if you are a good candidate for dental implants. Once you've been approved and an appointment is set, you will undergo oral surgery to have the implants placed. After a healing period of a few months, the abutments will be fixed on the dental implants. On your second appointment, our dental professional will take measurements of your mouth to create the artificial teeth, which will be placed on the abutments in the following appointments.
Aftercare and Longevity Of Dental Implants
Proper aftercare is important for the success of dental implants. Your dental professional will provide you with instructions on how to care for the implants, including brushing, flossing, and regular check-ups. Regular dental visits are important to ensure the implants are functioning properly, and your dentist can recognize any potential issues early before they become serious.
As far as longevity, the implant itself can last a lifetime with proper maintenance. The crown however typically lasts anywhere from 10-20 years depending on lifestyle habits and frequency of dental check-ups.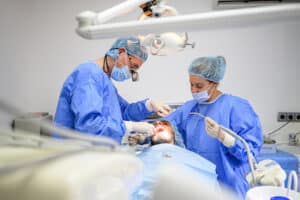 Contact Transcend Dental Implants And Periodontics
Dental implants offer a reliable and long-lasting solution to replace missing teeth. Unlike traditional dentures or bridges, dental implants are surgically placed in the jawbone, providing a secure and stable foundation. This allows for a more natural-looking and functioning tooth replacement option.
With their durable titanium posts and custom-made dental crowns, implants blend seamlessly with your existing teeth, enhancing both your smile and oral health. They not only restore your ability to eat, speak, and smile with confidence but also prevent bone loss and preserve the integrity of your facial structure.
At Transcend Dental, our experienced team is dedicated to helping you achieve the smile you deserve. We provide personalized care and guidance throughout the entire dental implant process, addressing any concerns or questions you may have. Don't wait to take the first step towards a healthier, more beautiful smile. Contact us today to schedule a consultation and explore the transformative benefits of dental implants.